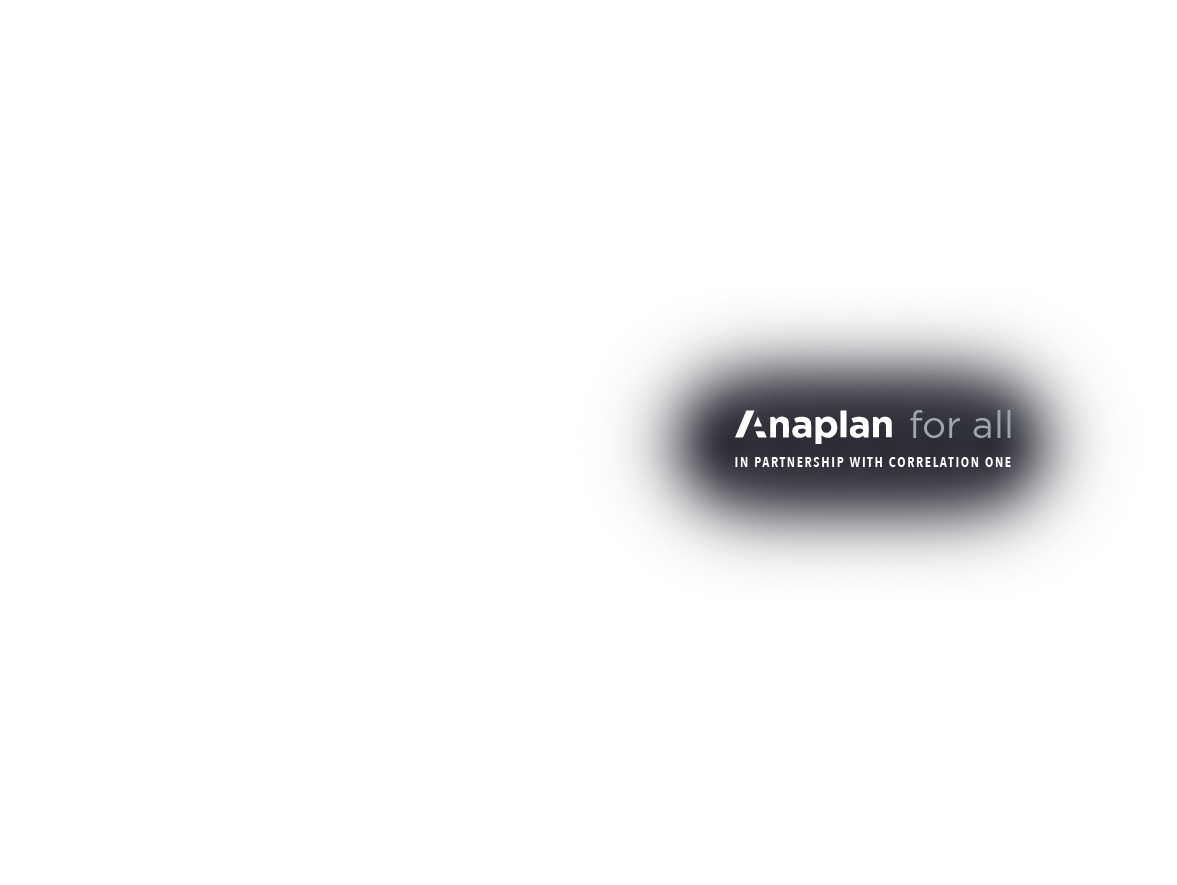 UPSKILL AND HIRE DIVERSE ANAPLAN PROFESSIONALS
Anaplan for All is a comprehensive training and hiring program that opens doors for professionals from underrepresented communities while also providing Anaplan partners and customers access to top-notch talent.
LATEST UPDATES:
Next cohort launching Q1 2022.

PROGRAM OVERVIEW
---
ANAPLAN MODEL BUILDER TRAINING IN PARTNERSHIP WITH CORRELATION ONE
Anaplan for All is a 12-week training program for individuals from underrepresented communities, including Black, Latinx, veterans, LGBTQ+, and refugees. The program trains individuals to become certified as Anaplan Model Builders, and facilitates introductions to employers in the Anaplan ecosystem.

Anaplan partners and customers can engage with the program by sponsoring their own employees to participate, or by mentoring and recruiting external fellows from diverse backgrounds.
ANAPLAN FOR ALL EMPLOYER PARTNERS
OUR ANAPLAN FOR ALL FELLOW COMMUNITY

TESTIMONIALS
---
ANAPLAN FOR ALL: PARTNER SPOTLIGHT
"We are lucky to have had several new bandmates join us from the Anaplan for All program. Their passion for planning, modeling, and delivering Anaplan solutions is already making a difference to Spaulding Ridge. We look forward to the continued success of Anaplan for All and are proud to sponsor the program going forward!"
Kevin Josephson, Chief Delivery Officer at Spaulding Ridge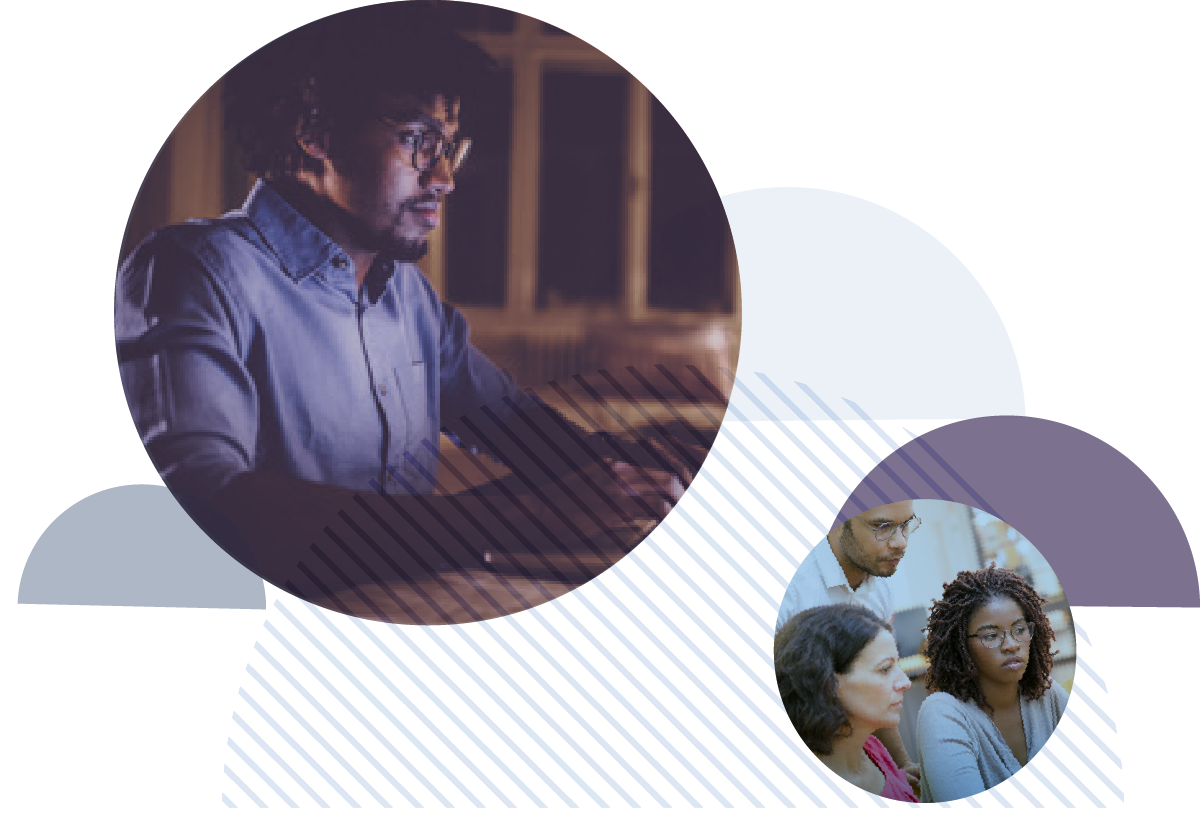 HOW IT WORKS
---
ANAPLAN MODEL BUILDER TRAINING
All participants receive supported Anaplan Model Builder training led by our world-class teaching staff. The training is accessible as well as practical, teaching the real skills that companies use.

The program is scheduled to take place fully virtually, including a mixture of live online classes with peers and lecturers, and flexible work time with teaching assistants and mentors. Each participant is supported by a team of experts who are available to guide and answer questions.
THE BUSINESS BENEFITS OF ANAPLAN FOR ALL

---
UPSKILL AND HIRE TALENT FAMILIAR WITH ANAPLAN AND ESSENTIAL BUSINESS PROCESSES
Anaplan for All Fellows learn essential analytics skills, apply them to real-world problems, and receive deep meaningful feedback to shape their growth.

---
ENHANCING ESSENTIAL PROFESSIONAL SKILLS
In addition to business and Anaplan training, participants enhance important interpersonal skills through interaction with professional mentors.

---
TAP THE ANAPLAN FOR ALL TALENT POOL
We measure our success by the success of our Fellows and the companies who act upon our shared commitment to training and employing diverse data talent.
---
Learn what Anaplan for All Fellows are saying about their experience
MOST POPULAR AND TOP-RATED ON COURSE REPORT
---
THE HIGHEST-RATED BUSINESS ANALYTICS TRAINING PROGRAMS IN THE WORLD
FREQUENTLY ASKED QUESTIONS
Why join Anaplan for All as a sponsor?
---
This program solves two critical talent acquisition challenges for Anaplan-powered companies: building a diverse and inclusive workforce, and hiring skilled, Anaplan-certified talent. Joining Anaplan for All as a sponsor means taking a step towards recruiting a more diverse workforce, while receiving access to carefully selected, top-notch Anaplan-trained talent.
What level are Anaplan for All graduates trained in?
---
Currently, the Anaplan for All curriculum focuses on "Model Builder" certification, teaching Levels 1 and 2 and the Anaplan Way. Anaplan for All plans to expand to train more advanced Fellows in mid-2022.
Is this program open to non-U.S. employers?
---
Yes! The Fellows in the current cohort of Anaplan for All will all be based in North America, but there are no restrictions on the location of participating employers. Anaplan for All plans to expand to train Europe and APAC based Fellows in 2022.
What backgrounds / professional experiences will Anaplan for All Fellows have?
---
Anaplan for All has a ~5% acceptance rate, and selects Fellows based on a combination of professional experience, aptitude and Anaplan-relevant skills. Fellows' professional experience spans accounting, finance, business intelligence, data analytics, logistics, project management and other relevant roles.

Can my employees participate in the program?
---
Yes! Sponsors can send their own employees to participate in the training program and become certified model builders. Sponsors can also send employees experienced in Anaplan to join the program as mentors and build relationships with the current class of Fellows.
TAKE A LOOK AT OUR DS4A PROGRAMS