Considering a data analytics career? Learn how Capital One - one of our Employer Partners - approaches data and analytics as an organization.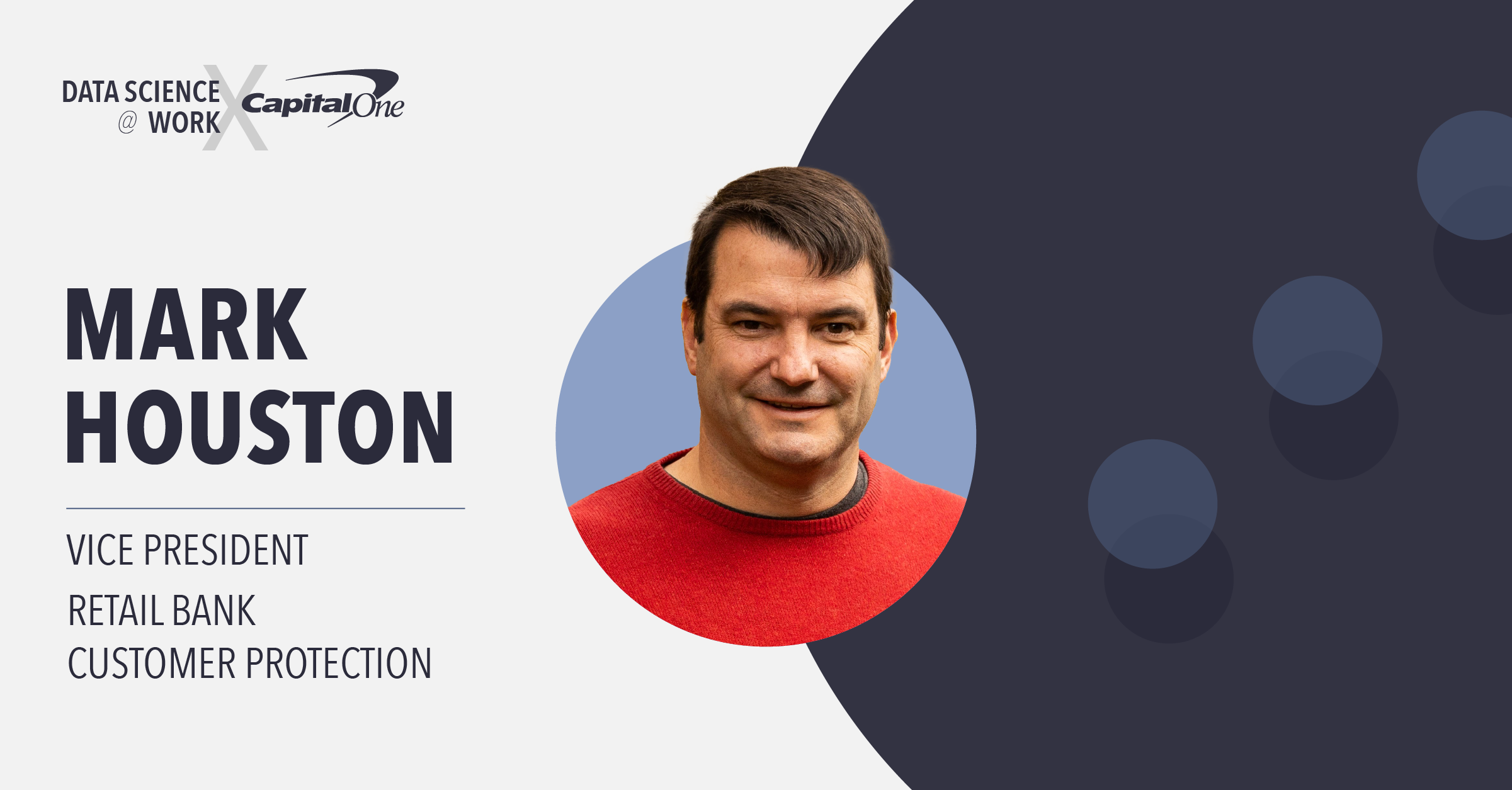 Community members of our award-winning Data Science for All (DS4A) program recently spent time with Mark Houston, Vice President of Capital One's Retail Bank Consumer Protection. Joining Houston for the presentation were members of Capital One's talent acquisition team – Lauren Cole, Nell Cunningham, and Jessica Riley-Mazor.
The event was part of Correlation One's Data Science @ Work webinar series, open exclusively to our Employer Partners – including Capital One – and our DS4A Fellows, Alumni, and teaching staff.
The series is an important opportunity for emerging talent to interact with forward-thinking, data-driven companies and leaders interested in hiring professionals from groups traditionally underrepresented in the data profession.
During their exclusive online conversation with Capital One, attendees learned:
What Capital One is like as a company and an employer
How Capital One approaches data and analytics
What aspiring data talent should know about the company
In this event recap, we'll highlight some of what Houston shared with webinar participants.
Meet Capital One
Capital One is on a mission to help its customers succeed by bringing ingenuity, simplicity, and humanity to banking. The company was founded on the belief that the banking industry would be revolutionized by information and technology, beginning with credit cards. Capital One offers a broad spectrum of financial products and services to consumers, small businesses and commercial clients through a variety of channels.
What might you not realize about Capital One?
They're a much younger institution than most other large U.S. banks, having launched in 1994. And with company founder Richard Fairbank still serving as CEO, the company remains founder-led, further distinguishing it within the marketplace.
Of course, as technology transforms the financial services world, competition continues to heat up.
Yet, Houston believes Capital One is uniquely forward thinking. "Capital One operates as a data-driven, modern technology organization that also happens to be a bank," he said.
Houston underscored several ways in which the organization is working to stay robust and competitive, including (but not limited to):
Investing in top data and engineering talent
Leveraging big data and machine learning as well as real time and artificial intelligence (AI) platforms
Following agile and DevOps practices
Capital One's Approach to Data
According to Houston, the company believes that data is now the world's most valuable resource – especially when companies harness it in a transformative way.
"Our leaders are committed to figuring out how to use data in ways that create personalized and differentiated customer experiences."
One way Capital One does that? By providing customer-facing products that use data to help customers to become more financially resilient.
"Through data, we are transforming what we can do for our customers not only in the bank but also in your pocket, through mobile and online apps," Houston said. "But what we do behind the scenes is what hopefully most of our customers never have to become fully aware of."
Protecting Customers, Preventing Fraud
"Fighting fraudsters is important at Capital One," said Houston, "and it's a responsibility met through the effective use of data insights."
For instance, the Bank's Customer Protection team invests heavily in data and AI, particularly in the development of machine learning capabilities.
With the help of technology and data talent, Capital One is always working to serve customers by predicting who is interacting with the company (customer or potential imposter) in multiple contexts (e.g., in-person, online, at ATMs) and making real-time decisions about the validity of financial transactions and account updates
Houston illustrated the multitude of questions that his data team must tackle in order to ensure customer protection and satisfaction.
"When you go to open your account, you give us information. And then we use that information to make a decision. Is that really you? Should we give you an account or is that a fraudster? Once you have an account, if you come to deposit a check, we have to make a decision about whether you're really the one making the deposit. Do we think that check is going to clear? How fast should we give you access to their money. These are all decisions that we are making many, many times each day as our customers try to run their lives and businesses.'
"Such decisions come back to a monumental amount of incoming data and the need to transform that into actionable information," added Houston. "Building these capabilities does not just happen, it requires investment and teamwork."
And that's one reason why Capital One prioritizes hiring top data and engineering talent – including people from traditionally underrepresented groups – and creating a workplace culture where they can succeed
The Role of Data Professionals
The company's data professionals bring the connection between customers and organizational processes to life. To that end, they collaborate to build useful data solutions while also shepherding critical data assets.
Houston shared five competencies his team of data analysts specialize in:
Innovating through emerging analytical capabilities
Delivering insights through data analysis
Getting the data needed to solve problems
Managing data assets according to leading practices and standards
Using software engineering standards when developing solutions
He added that the company employs both data scientists and data analysts.
Each of these roles has different responsibilities, and Houston provided insights into each one. He also emphasized that Capital One seeks to empower their data professionals to connect with the people that have the right competencies to help them achieve their objectives.
So, Capital One's data scientists and analysts work with many different employees across the company, including:
Product owners
Data engineering and infrastructure teams
Business analysts
Process managers and frontline employees (e.g., bank tellers)
What Capital One Values in Data Talent
"Successful data analysts and scientists at Capital One need not only the
ability to understand data and its context, but also to understand business problems and think creatively about how data may solve those problems," said Houston.
If one wants to work in data for Capital One, he noted, having just the right set of
programming languages and technical expertise isn't as important to managers as:
Your ability to think through problems
Being passionate about the work that Capital One does
Having a growth mindset and being willing to evolve throughout your career
Displaying emotional intelligence in your communication
While having AWS knowledge or data training certification helps new employees hit the ground running at Capital One, Houston emphasized that the company is fully equipped to train and develop its data professionals' additional technical skills.
As the company's CEO Fairbank once said, "At Capital One, we strive to attract the best people and give them the opportunity to be great."
According to Houston, the company follows through on those words with their data talent by investing heavily in training and development as well as offering several points of entry into the company depending on career stage (including paid internships, full-time rotational programs, and direct hiring).
The Takeaway
Capital One is a bank that operates like a technology company. As such, they approach data as a valuable resource. They invest in data talent so that these employees can help solve problems, protect their customers, and promote financial resiliency.
Correlation One is proud to count Capital One among our Employer Partners, an elite group of top-flight companies dedicated to supporting our DS4A Fellows and Alumni.
Working together, we are able to train, upskill, reskill, and mentor talent from groups traditionally underrepresented in the data profession while also helping to enhance employer branding efforts.
Explore More
Interested in learning ways how your company can partner with us to train today's data talent to drive tomorrow's business success? Learn more now.