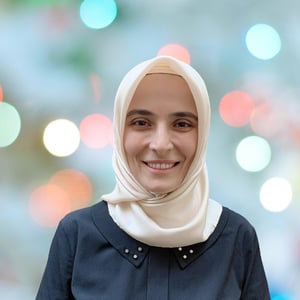 Seyma Tas is a Business Consultant at Slalom Management Consulting. She is a data scientist, Anaplan model builder, blogger, and lifelong learner with a passion for teaching and women empowerment. She has both teaching and learning roles at Correlation One as an Anaplan for All Fellow and Data Science for All teaching assistant. In this guest blog post she shares her experience learning Anaplan model building through Correlation One.

(Note, however, that since this piece was originally published on the Correlation One blog, the Anaplan for All program has grown and changed considerably. To learn more about it today—including how to apply, please visit the official Anaplan for All page.)

---
Introduction
Anaplan for All is a program that trains select DS4A / Empowerment Fellows in Anaplan's model-building software. It runs for 8 weeks following DS4A / Empowerment graduation. The program is available to DS4A Fellows who are interested in developing Anaplan skills. Once certified, Fellows can access jobs within the Anaplan ecosystem, either in companies which use Anaplan, or in Anaplan itself.
The Anaplan for All program embraces DS4A / Empowerment's approach to immersive learning. Classes are virtual and live on Saturdays, with plenty of material supplied for asynchronous learning during the week. Mentors from within Anaplan join us to give career advice and direction on how to level up our careers.
Correlation One's Data Science For All / Empowerment program finished four weeks ago. It was an excellent experience for the Fellows from the underrepresented groups.
It was not easy to have more than five hours of Python, SQL, and statistics lessons, plus 4 hours of project work after the lessons, every Saturday for 13 weeks.
Some of the fellows applied and were selected for an extended education supported by Anaplan. They are having an eight-week-long training for Level 1 and Level 2 Anaplan Model Builder education.
What is Anaplan?
Anaplan is a cloud based software as a service (SaaS) business modeling and planning platform. Its name comes from the words Analysis and Planning.


Image by Author
Connected Planning
Anaplan connects data, people, and plans within an enterprise. It is not just financial planning, it is enterprise planning. Anaplan can be used for data-driven decisions.
Anaplan is a really powerful, intelligent, dynamic, customizable tool that has the capability to transform businesses. Because it is adaptable, companies need someone to adapt their businesses to Anaplan structure. That is what an Anaplan model builder does.
Data-Driven-Decisions
Anaplan software provides non-technical users the ability to make data-driven decisions that would normally require data analysis skills. Once a customer uploads data to the Anaplan cloud, the users can quickly organize and analyze huge amounts of data from finance, human resources, sales and other areas of business operations.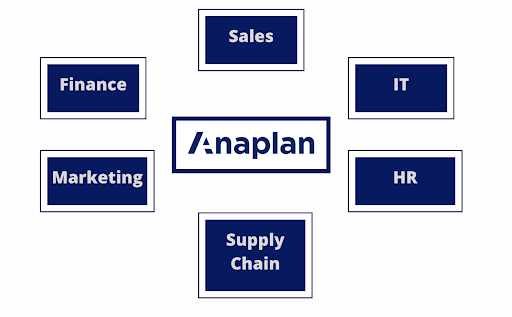 Image by Author
Is Anaplan Model Builder Training Hard?
If you are not familiar with business analytics, yes! In the beginning, it looks too abstract, too complicated.
This is the first diagram you see when you start the lessons: You need to build this model to finish the Level1 training.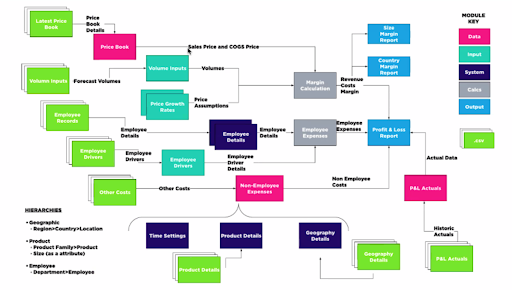 Image from the Anaplan Level 1 training
Anaplan Training at Correlation One
Because Anaplan is a powerful platform, it looks too complex in the beginning. However, Anaplan learning website provides a clear, easy-to-follow, and well-maintained training. In the training, the lessons are separated into micro lessons and following exercises which are easy to interpret and digest.
Lessons
At Correlation One, lessons are taught in a virtual classroom-like environment. Learning in a community with friends makes it easier. Fellows get individual support from the instructors.
The best part of the Anaplan training is no one has a background or knowledge about the platform. Everyone is at the same level so everyone is struggling with the same issues so they are willing to help each other.
Lessons are from 11:30 to 4:30 EST for 8 Saturdays.
There are 25 students in each group.
Lessons are taught by Correlation One teaching assistants.

Level1 lessons: (3 weeks)
First level training is made up of 15 lessons including around 100 microlessons.
You attend lessons for three Saturdays, you need to pass the Level1 exam and get the Level1 certificate after three weeks.
Level2 lessons: (5 weeks)
Second level training is made up of three sprints with each one followed by an exam right after:
Sprint1: Data Hub model
Sprint2:Supply Chain-Demand Planning Model
Sprint3 Supply Chain- Inventory Planning Model
Informational Sessions
Informational sessions are organized for the fellows to make connections with the Anaplan customers. Huge consulting companies like Accenture, Ernst & Young, Deloitte give information about the Anaplan jobs and Anaplan career path.
Career Coaching and Mentorship
Anaplan training provides mentorship as well. Each fellow is matched with a mentor for five weeks. Mentors share insights about the Anaplan ecosystem, introduce fellows to the professionals in the industry, guiding on career goals, resume building, and networking.
While learning a software, you have a mentor from the company who created the software!
Conclusion
If you want to start a challenging but inspiring journey, choose an alternative path for your data analysis career and say "YES" to this program. Anaplan training at Correlation One is a rewarding experience. One can easily get an Anaplan Model Builder job with the help of the instructor-led training, career fairs, informative sessions, and career coaching organized by Anaplan and Correlation One.
---
Hear more from Seyma in this short video about her experience with Anaplan for All:
---
Seyma Tas is a data scientist at a Children's Tumor Foundation research project where she builds computer vision models to support the AI solution for a rare genetic disease, AVI: an app that allows the recognition of symptoms by using NLP and image processing.
She has a strong passion for teaching and a lifelong belief in the importance of women empowerment in STEM areas.