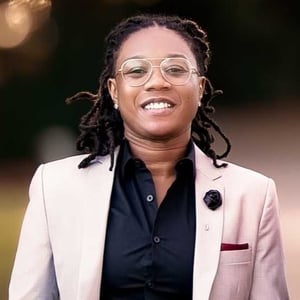 Kndia Davis is a graduate of Louisiana State University and Georgia State University. Kndia spent the last ten years designing and implementing custom health insurance and benefits administration solutions. Joining DS4A/ Empowerment and the Anaplan for All program presented Kndia an opportunity to network, learn more about data science and strengthen technical skills. Kndia eventually accepted an opportunity to work as an Anaplan Consultant at Spaulding Ridge.
Note, however, that since this piece was originally published on the Correlation One blog, the Anaplan for All program has grown and changed considerably.

To learn more about it today—including how to apply, please visit the official Anaplan for All page.

---
My willingness to teach myself a technological skill, in order to solve a problem or to make things more efficient, began in high school when I learned HTML and Photoshop to design custom MySpace layouts and continued in college while working as a de facto admin assistant, I learned SQL to update the Access database to prevent me from making multiple trips to the same offices because the reporting wasn't segregated by owner. I subsequently began to find the underlying query or data for anything that wasn't output in a way that I could directly act on and even created a database for an electrical engineer on staff.

I've always enjoyed learning and using technology, but I didn't have exposure to roles that utilized technology to solve business problems. I explored Industrial Engineering for a while, but the business value was focused too much on manufacturing and/or ergonomics. Needless to say, I graduated not knowing what I wanted as a career. While obtaining my Masters I was contacted by a company for a full time job based on my previous SQL experience. I'd be configuring benefits administration systems for large corporations such as Northrop Gruman, Best Buy and Bank of America. I'd use SQL to find test cases and determine impacted participants for bugs. However, most of the work centered around determining which precreated module best fit the business rule needed for this function, configuring the system to use that module and testing. I was finally using technology to solve business problems.

After two years and a promotion, I received an offer to join another benefits administration company, but this platform was very different! This company had a fully customizable platform and very little prepackaged modules. They had rules which were used together to build apps which were organized in tasks that were the major components of processes. I learned about namespaces and domains, variables and structures, controls and classes. This company marketed itself to organizations that didn't have industry standard rules or processing. Companies with lots of unions, school districts and governments. I had the freedom to take a business rule and define how I wanted the system to accomplish the goal. I also began to work closely with our Operations team and solicited feedback on how to make the design more efficient for the day-to-day processing they would need to complete in the system. I even had the opportunity to pull out my old HTML skills and design the user screens while also connecting them to backend processes, which I also designed, used to save and update the data entered on the screens.

Over the seven years I worked there, I learned about EDI, reporting and dashboards, and became a SME for our billing and financial processes. As a senior consultant and manager, I engaged with client stakeholders to define business requirements, technological and resource limitations and really understand their needs for the implementation and manage expectations and deliverables. I really enjoyed this work, but I wanted to do it in different domains, not just benefits administration. Unfortunately, I'd been utilizing a lot of proprietary tools and could not jump directly into development.

DS4A / Empowerment provided me the opportunity to develop my technical skills and get exposure to modern technology stacks. My previous experience allowed me to quickly pick up most of the new technology. While in DS4A, I learned about Anaplan, and I was intrigued. It seemed similar to previous work in that it was a highly customizable solution. However, its emphasis on data and its flexibility to be used for so many use cases such as financial planning, supply chain, and workforce planning were extremely appealing. I had to apply to the Anaplan for All program!
---
What did you expect coming into the Anaplan for All program?
Coming into Anaplan for All, I didn't have very specific expectations. I did anticipate the program to be extremely technical in nature. With all of the participants coming from DS4A, I assumed Anaplan Model Building required a strong understanding of statistics and regression models. I was extremely wrong. Anaplan Model Building training focuses more on building a customer-center mindset while teaching best practices for creating solutions that meet your customers' needs. I would describe the training as a series of related business problems. However, you are limited to a specific toolset to solve the problem. The learning was centered on getting to know your tools, but not just how to operate the tool. Anaplan learning included so much emphasis on what scenarios each tool is good for.
What was your biggest takeaway from the training?
Anaplan Model Builder training emphasized that the technology or platform is just a tool. The Anaplan Way can be applied to implementation of practically any technology. It is a comprehensive and easily digestible guide to success Agile product implementations. Additionally, it focuses on thoughtful deliberate design. Just because you can design and build something doesn't mean you should. Just because something "works" doesn't mean it's done right. I am not a visual learner. Building a model design by starting with the UX design really ensured that everything added to the model supported the needs of the end-user and conversely created a data pipeline to identify data gaps.
Who was your mentor and how did they help you?
My mentor was Scott Kolka, Director of Professional Services. Scott allowed me to pick his brain on a number of topics from transitioning technologies, technology partner relationships, people management and client management. Some of the most insightful messaging from Scott focused on client management. Scott highlighted the importance of educating and training your client on the product to better set expectations and to ensure the client extracts as much value from the product, as possible.
How do you plan to use your new Anaplan Model Building skills in your new role?
I will be a Senior Consultant in the Anaplan Practice at Spaulding Ridge. As a member of the Spaulding Ridge band, I'll be utilizing Anaplan to help solve some of the most complex business challenges at Fortune 50 and Fortune 500 companies. By delivering customer-focused solutions, I'll help clients maximize the return on their technology investment.
---
Hear more from Kndia in this short video about the Anaplan for All experience:
---
Kndia Davis is a senior consultant from Atlanta, Georgia with nine years of experience designing, developing and delivering custom operational systems. Kndia has worked in consulting roles for HGS Colibrium, Morneau Shepell, and Aon Hewitt. Kndia graduated from Louisiana State University with a BS in Interdisciplinary Studies and from Georgia State University with a Masters in Business Administration and Health Administration.