What makes the DS4A / Empowerment experience unique? Three of the award-winning data training program's insiders share their perspectives and insights.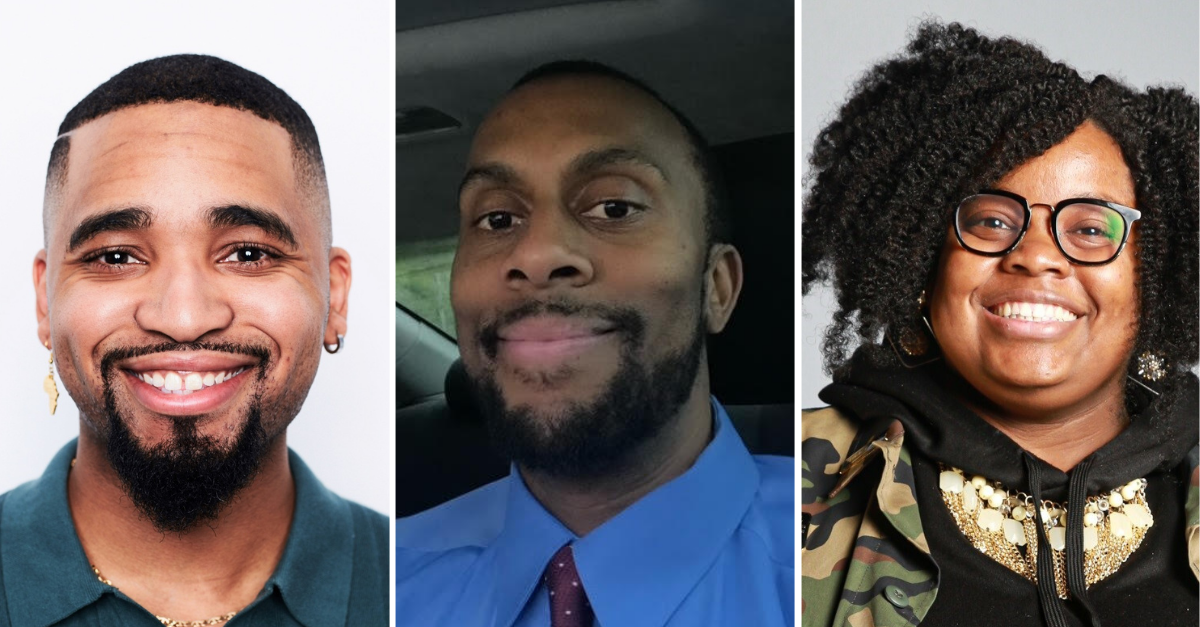 Pictured: Rob Rush, William Johnson, and Teneika Askew
William Johnson's most viral TikTok started with four seconds of pure exasperation, as another TikToker summed up the vague technology career advice he'd heard on the platform: "It's always 'Tech, I'm in tech, I work from home.' What is y'all's position? How did you get it?"
"I could sense his frustration because I'd once felt the same," William said. "Like, 'I know I want to do something in a technical field. Where do I go? Where do I start?' I wanted to respond to him: 'Hey, this is what I did. If I can do it, anyone can do it.'"
So, William stitched a personal reply to the original video:
To date, William's answer – in which he recommends the Data Science for All (DS4A) / Empowerment program from which he graduated last year – has 2.8 million views.
That whopping number, coupled with ongoing interest in William's numerous videos answering similar questions from his 20,000+ TikTok followers, highlights a hunger for clear, simple explanations of how one can get started in tech and data careers.
For William, who wanted to pivot away from a sales career, the award-winning DS4A / Empowerment program was a clear, direct route. After completing the multi-week course of training, he began a new job as a data quality analyst.
Yet he's far from the only DS4A / Empowerment grad sharing his experiences and insights with would-be tech talent on social media.
A quick search for the official #DS4A program hashtag on Twitter, LinkedIn, and TikTok turns up posts from prospective, current, and past students talking about the program – and sharing their remarkable professional achievements in the wake of their training.
So, what sets this data skills training program apart, prompting rave reviews and enthusiastic online testimonials?
To learn more, we sat down with William and two other individuals who know the program well: Rob Rush (the Empowerment program's Manager of Business Operations) and Teneika Askew (a graduate of both DS4A / Empowerment and DS4A / Women who now directs the U.S. Navy's Data Science as a Service).
Connecting Talent with Tech Training
Teneika works hard to connect others to opportunities in the data profession.
In addition to serving as a DS4A Data Science Instructor, Head Teaching Assistant, and Strategic Program Advisor, she routinely fills her LinkedIn and Twitter feeds with tech tips and thought leadership as well as advice on how to locate (and make the most out of) tech training programs.
In fact, Teneika personally found out about DS4A through social media.
"I was doing weekly searches for these resources and came across DS4A in July 2020. And I was like, 'This looks interesting!'"
She not only applied to the program but also shared the information with her social and professional networks.
"From there, John Benjamin [Correlation One's Senior Director of Business Operations] reached out to me. He was happy to see that my posts reached so many people and that's where my journey with DS4A started as a program ambassador."
Likewise, William learned about DS4A via social media, specifically from a tech influencer he followed on TikTok. "I looked into it even though the 'free' part sounded too good to be true."
Despite his two masters' degrees in business and an established sales career, William wasn't confident that he'd land a spot in the competitive Empowerment program. But he did.
"That's such a full circle moment for you, William," observed Rob. "You found out about Empowerment on TikTok, and then you went viral talking about Empowerment on TikTok."
Rob added that busting myths online and in real life about what it takes to work in data can help bring new talent – especially talent from historically underrepresented groups – into the field. "I'd never thought that I could work in the tech industry if I didn't know how to code. That not only limits what you think is possible for you in a professional capacity, but it also puts a veil over the entire industry."
DS4A / Empowerment lifts that veil while successful DS4A Alumni like William and Teneika are showing others what's possible on the other side of graduation.
Empowerment Through Data Skills
Once students are enrolled in the program, "empowerment" means providing and accepting support while working through a challenging workload. The rigorous 14-week curriculum, taught by instructors from leading universities, covers programming, statistics, data modeling, and the use of analytical tools.
Each class (or cohort, in DS4A terms) also receives group mentoring and opportunities to connect with employers. Students use real-world data sets to analyze real-world scenarios, and they must learn to work collaboratively, find solutions to tricky problems, ask for help when they need it, and persevere.
William said the Empowerment experience can be transformative not only for graduates but also for the important people in their lives. "You can make a significant life change with the brain power you have. You have the opportunity to gain skills and make money in ways that can change the trajectory of your whole family."
Working closely with Employer Partners and Mentors, Empowerment participants (referred to as "Fellows") can quickly build a strong professional network in their new field. "DS4A created a lot of opportunities that I had not encountered before," Teneika said.
"Once I had DS4A on my LinkedIn, it was recruiter after recruiter reaching out from different companies: tech companies and nontechnical companies who needed data people," she added, "That experience came full circle when I started as a Teaching Assistant and then helped other TAs through their DS4A journey as well."
Empowerment Through Diversity and Inclusivity
DS4A / Empowerment is open to Black, Hispanic and Latinx, veteran, and LGBTQ+ learners, all of whom are traditionally underrepresented in the tech industry. The result is the world's largest community of diverse data talent — and a learning experience unlike most others.
---
DS4A COHORT DEMOGRAPHICS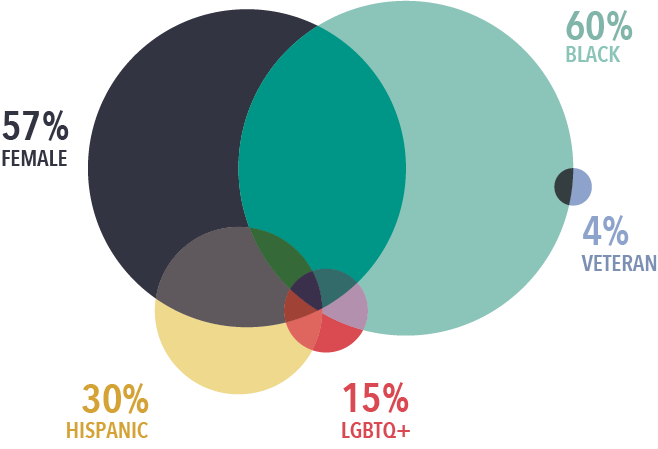 ---
"We're inherently inclusive," Rob said. "Our overrepresentation of Black, LatinX, and LGBTQ+ students is something that corporate America has yet to achieve. So, when we're in the classroom and people are bringing ideas, we're able to just see them as ideas without tokenizing a community. They don't get shuffled into 'Oh, they're bringing this idea because they're in X, Y, or Z group, so I must see it in relation to that.'"
Student diversity has benefits that extend beyond each Empowerment cohort's graduation day.
"What I hope that people take from the experience is not just the fact that they belong in those rooms, but also that when they're in those rooms and don't see somebody who looks like them, they remember that there's a community that knows that same experience," Rob said. "They don't have to feel this burden of being the only one in the room or in that space."
"I worked somewhere before where they would say they value diversity and inclusion, but it didn't really seem like it when the rubber hit the road," said William. "With DS4A, I didn't have a question as to whether those things were important. That made me comfortable expressing myself. And then when it comes to networking, you're going to join a network of thousands of fellow graduates that are like you and in the same industry."
Empowering Equity Conversations with Prospective Employers
The program's diverse, inclusive culture and support network spark participants to expect real action from prospective employers on equity, too.
"I was wondering about the equity piece and how that would come about in this program," Teneika said. "Correlation One was good with bringing in key stakeholders in [the data] space or those who were looking to make investments here."
As a Johnson & Johnson Endowed Scholar during her DS4A training, Teneika felt supported by her corporate sponsor. "Someone [at Correlation One] did a really great job in finding companies who were interested in what the Fellows were doing and what their experience was like. That led to so many conversations with employers."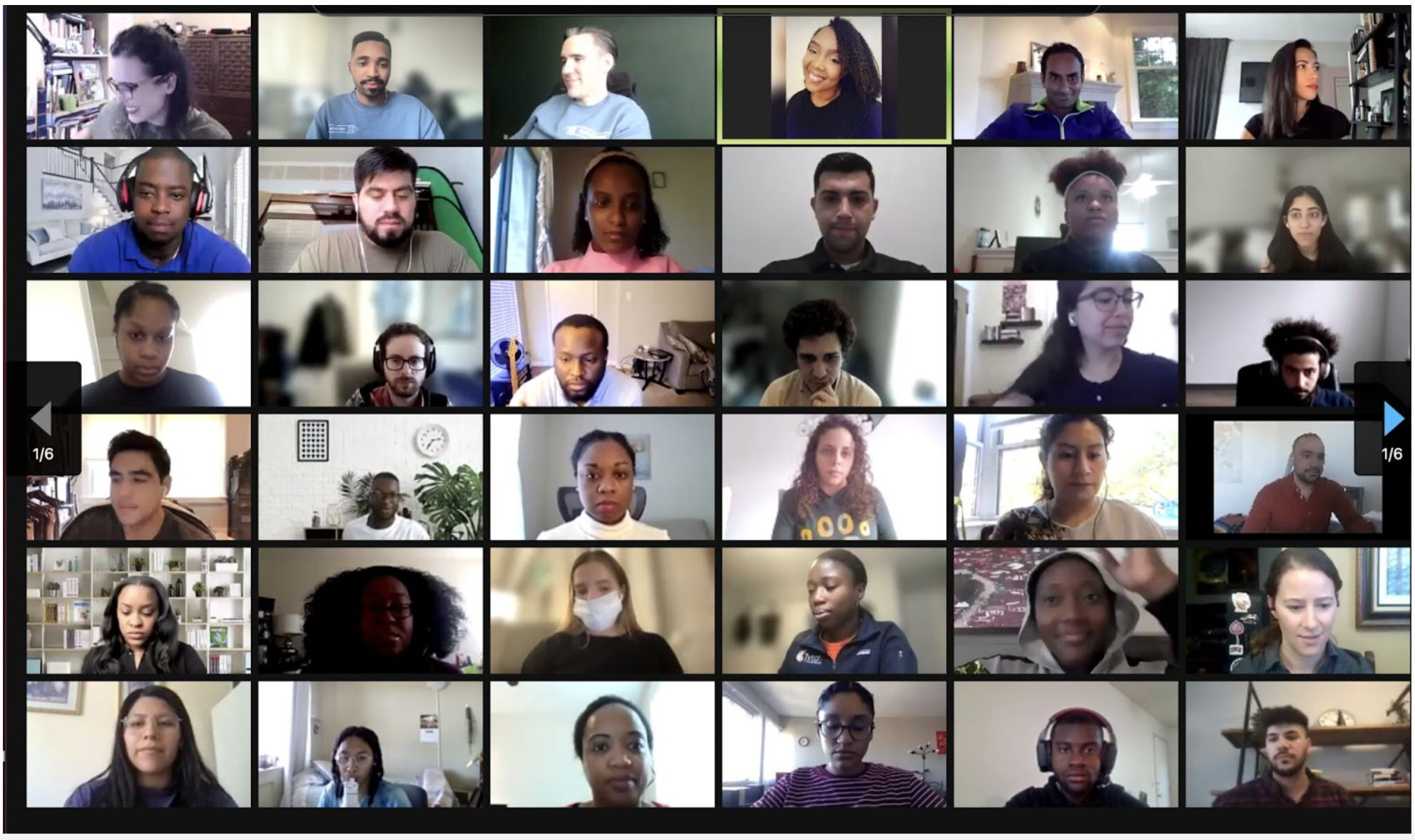 Above: Robust, engaging DS4A employer sessions offer Fellows valuable interaction with data leaders while also providing Employer Partners with the opportunity to enhance brand awareness with rising talent.
During special sessions featuring select DS4A Employer Partners, Teneika said students felt empowered to ask pointed questions about employers' commitments to DEI.
"These weren't traditional Q&As. They were very intense conversations, with questions like, 'What is it like to be a Black woman who's not getting promoted or seen for the value add that she brings to your team every day?' Or 'What does it mean for your employer to make statements about George Floyd and Breonna Taylor? Do you feel like those statements are just statements, or are they things that your organization is executing against?'"
Employer responses demonstrated that even if they weren't where they needed to be on equity, they were committed to getting there.
"I think we were giving these employers a run for their money," Teneika said, "and it showed when they came back with answers. Even the employers who were not ready came back and had secondary sessions or sent follow-up notes. What made it equitable for me was being able to communicate with organizations who share the same values and who followed up."

Above: Live chats during classes and employer sessions reveal high levels of engagement, interaction.
Growing the Data Talent Community
Seeing how DS4A / Empowerment supports learners through skills training, creating a diverse learning community, and partnering with employers who are committed to acting on DEI goals, it's easy to see why graduates are so eager to spread the word.
And then there's the fact that the award-winning program is 100% free to learners, funded entirely by forward-thinking companies that place a premium on hiring skilled data talent from underrepresented groups.
So, it felt right to ask William, Teneika, and Rob what they would say to people who are wondering if Empowerment might be right for them.
"If you're looking to get into a data-focused career, whether it's data engineering, data analytics, or data science, and you don't want to pay $20,000 to $30,000, this is a really great opportunity for you to come into a fellowship program that provides you the skill set that you need to get into the market, be ready to interview, and be ready to hit the job running," Teneika said.
"You'll also have mentors, a career advisor or career coach. And you'll have help updating your resume, portfolio, and LinkedIn profile, whether you want a new job or want to get promoted with your current employer."
William said he encourages prospective applicants to prepare for the work. "I'm very clear that it's hard. I don't want people to have the wrong impression. It's very much worth it, but it's not easy. But you will have a great network of Mentors and Fellows."
Rob urges applicants to embrace DS4A's challenges.
"Empowerment itself is giving somebody the tools, enablement, and encouragement to be more confident and have control over one's life. One of the sentiments that we hear often from our cohorts is that people feel like they've taken back control of their lives, like they can go out and achieve anything after learning a hard skill."
"Knowing that you have agency in the world is one of the biggest intangibles that people gain from participating in this program," he added, "and I'm very proud of that."
Explore More
Curious about opportunities to become a Fellow, Employer Partner, or Mentor in an upcoming cohort? Visit the DS4A / Empowerment page now.

This article was produced in collaboration with Casey Kelly-Barton.